So… I also got into UC Irvine. I rather like the little image they use to congratulate you, so I saved it. xD Either way, I'm not going to Irvine… even though all the asians go there. The decision wasn't that hard, but still I hate not knowing what it is that I will have missed. Eh, I just don't like too many cities south of LA, so Irvine wasn't too much a choice. Eek! But two people I know have set their hearts on UCI, but they still don't know!! :0 Even Berkeley and LA already posted their decisions. Crazy month this has been… admissions and all. ):
Hm, most of the people I know that got into Berkeley don't even want to go! It's devastating. They actually get in, and they don't want to go. Certain people were mad that they got into Berkeley, but not LA. No one's ever happii~ People should just be grateful they got into at least one of the two. Ah, and a person I never expected to get into one of them got in. I was like, "… serious???" :0
So… I think I'm getting my hair bleached for the first time evAr this weekend or sometime during the week. Eek, I'm nervous. I did a photoshop test and it looks sooomething like this: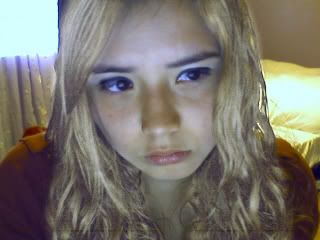 Hm, I didn't bother color matching, but I want it to look something more like this:
Pink streak and all. It's definitely leaning more towards the platinum side, but I don't much like "yellow" blondes.
So, anyway… new layout soon. Very soon. This weekend soon.